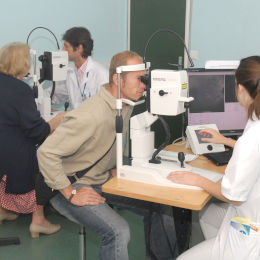 The ophthalmology department of Créteil boasts a complete diagnostic platform encompassing all hi-tech diagnostic devices.
These include fluorescein angiography (FA), indocyanine green angiography (ICGA), optical coherence tomography (OCT), OCT-angiography (OCT-A), ocular ultrasound, the visual field and electrophysiology.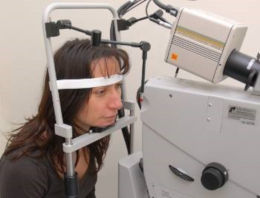 Fluorescein angiography is the key examination for the diagnosis of retinal diseases and more specifically age-related macular degeneration.
Fluorescein, which is a vital dye, is injected into a vein and emits a specific light when excited by a light of a certain wavelength. Angiography consists of taking photographs of the retina during the passage of fluorescein into the retinal vessels.